Busting Out of Lockdown (with E. Michael Jones)
---
---
CLICK HERE TO JOIN OUR EMAIL LIST!
Saturday, November 20, 2021–8am Pacific * 11am Eastern * 15:00 GMT
All shows are archived here right after the broadcast.
False Flag Weekly News 11/20/2021
Busting Out of Lockdown (with E. Michael Jones)

Today's Hosts: Kevin Barrett & E. Michael Jones
Stop the Wars and Restore Our Civil Liberties.
CLICK HERE to Keep Kevin on the Air and to Support False Flag Weekly News
Help me keep doing False Flag Weekly News! I'm Kevin Barrett, co-host of False Flag Weekly News (FFWN) and I can no longer afford to keep doing this show for free. So we are going to have a separate fundraiser for each weekly episode. If we raise at least $200 by next Saturday I will do that day's show. Anything over $200 per week will be donated to No Lies Radio/No Lies Foundation and Khidria, Inc., both 9/11-truth supporting registered 501(c)3 nonprofits.
Is False Flag Weekly News (FFWN) the world's best news show? Many people think so. Hosted by Ph.D.s (and sometimes featuring other expert guests) with expertise in history, global affairs, humanities, and other issues related to the phony "war on terror" among other scams, frauds, and deceptions, we cover the context behind the headlines to help you understand what's really going on. Unlike mainstream and pseudo-alternative media, we don't accept advertising. That's why we're free to "tell it like it is"!
So please support False Flag Weekly News! You can catch us every Saturday at 11am Eastern on http://NoLiesRadio.org – or watch the archived shows at https://noliesradio.org/archives/category/archived-shows/false-flag-weekly-news.
---
CLICK HERE TO JOIN THE LIST!
---
TODAY'S NEWS STORIES AND THEIR SOURCE LINKS:
PSA
1) Help FFWN Bust the Info-Lockdown! https://fundrazr.com/61ux05
Medical Mis(sing)Iinformation
2) More people died in the key clinical trial for Pfizer's Covid vaccine than the company publicly reported https://alexberenson.substack.com/p/more-people-died-in-the-key-clinical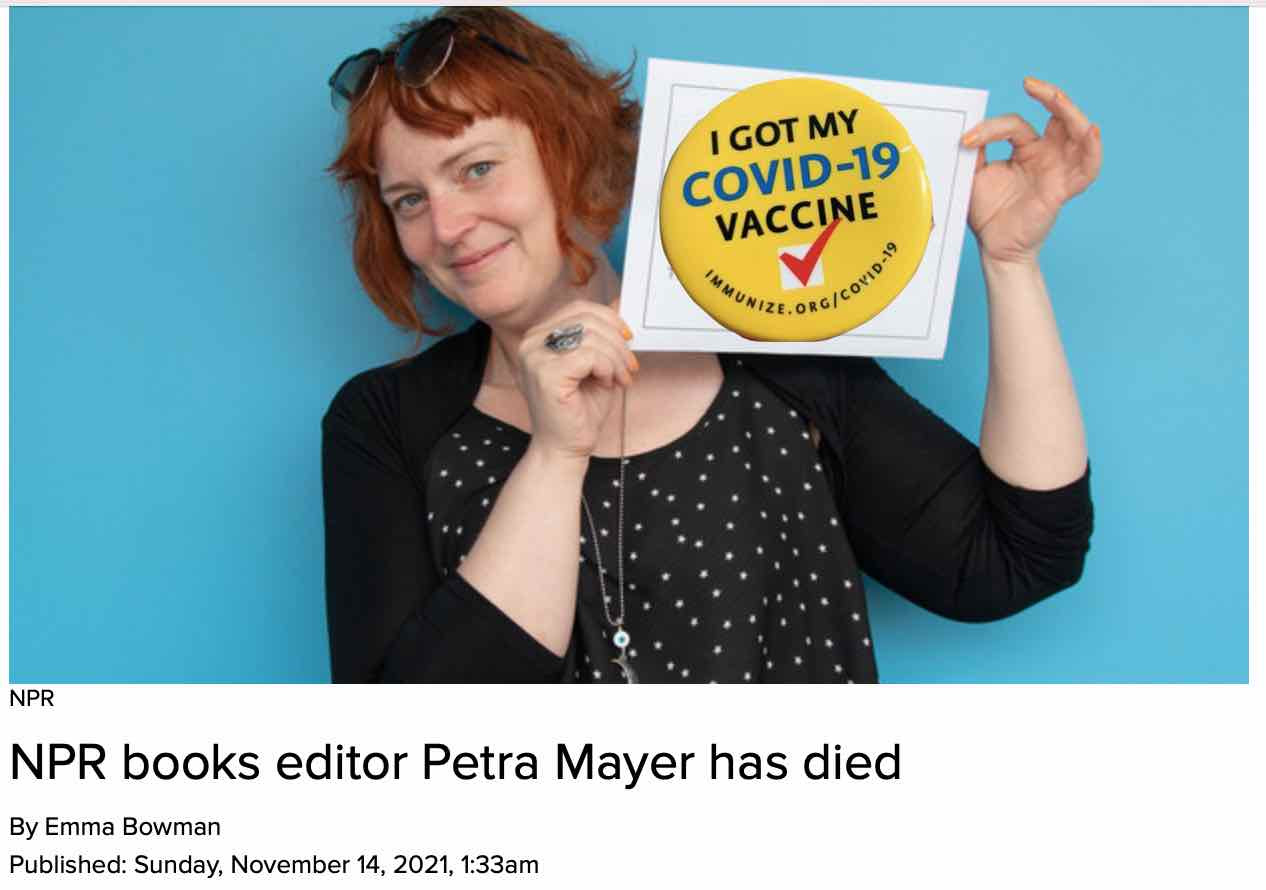 3) NPR's Petra Mayer, 46, Dies of Pulmonary Embolism https://www.kxan.com/entertainment-news/national-public-radio-books-editor-petra-mayer-dies-at-46/
Rittenhouse Circus
4) Kyle Rittenhouse ("NOTORIOUS GUN-TOTING TEEN") Acquitted in Bombshell End to Vigilante Murder Trial https://www.yahoo.com/news/kyle-rittenhouse-acquitted-bombshell-end-181508214.html
5) Kyle Rittenhouse | Murder or Self-Defense? (careful examination of all video footage) https://youtu.be/tkTnQfjRvk0
6) Democrat wants employers to let black workers take day off after Rittenhouse verdict https://www.washingtonexaminer.com/opinion/democrat-wants-employers-to-let-black-workers-take-the-day-off-after-the-rittenhouse-verdict
7) Kyle Rittenhouse, Project Veritas, and the Inability to Think in Terms of Principles  https://greenwald.substack.com/p/kyle-rittenhouse-project-veritas
8) Newsweek Publishes "Why I'm Not Vaccinated" https://www.newsweek.com/why-im-not-vaccinated-opinion-1648024
Mandates/Lockdowns
9) OSHA Suspends Biden's Employer Vaccine Mandates Following Court Order – MSM Blackout on This Story?! https://childrenshealthdefense.org/defender/osha-employer-vaccine-mandates-court-order/
10) Covid: Austria introduces lockdown for unvaccinated – then announces compulsory vaccination for all https://www.bbc.com/news/world-europe-59283128 https://www.theguardian.com/world/2021/nov/19/austria-plans-compulsory-covid-vaccination-for-all Jimmy Walter reports from Vienna: https://www.unz.com/audio/kbarrett_covid-19-fascism-jimmy-walter-on-draconian-mandates-john-whitehead-on-covid-detention-camps/
11) Navy Tells Vaccine Refusers They Have Less Than a Week to Get the Shot, or Face Discharge https://www.military.com/daily-news/2021/11/16/navy-tells-vaccine-refusers-they-have-less-week-get-shot-or-face-discharge.html
12) Santa's vaccine passport prompts supermarket boycott https://www.rt.com/uk/540407-tesco-santa-vaccine-passport/
Censorship
13) NIH director wants consequences for vaccine conspiracy theorists https://www.rt.com/usa/540773-nih-vaccine-misinformation-justice/
14) On Podcasts and Radio, Misleading Covid-19 Talk Goes Unchecked https://www.nytimes.com/2021/11/12/business/media/coronavirus-misinformation-radio-podcasts.html
15) Conspiracy theorist Alex Jones ruled liable in Sandy Hook defamation case https://www.npr.org/2021/11/15/1055864452/alex-jones-found-liable-for-defamation-in-sandy-hook-hoax-case
16) You're already in the authoritarian state': Chinese dissident Ai Weiwei criticizes US 'woke' culture https://news.yahoo.com/already-authoritarian-state-chinese-dissident-220013942.html
Investigations
17) FBI investigating vials labeled 'smallpox' found in lab near Philadelphia https://news.yahoo.com/vials-labeled-small-pox-found-in-lab-near-philadelphia-003127682.html
18) Two men convicted of murdering civil rights leader Malcolm X in 1965 will have their convictions thrown out tomorrow – validating long-held doubts about who REALLY killed him https://www.dailymail.co.uk/news/article-10213677/2-men-cleared-1965-killing-Malcolm-X.html
19) Police Officer Finds Suspicious Pile of Bricks in Kenosha Back Alley – Report (AUDIO) https://www.thegatewaypundit.com/2021/11/leftists-work-police-officer-finds-suspicious-pile-bricks-kenosha-back-alley-audio/
Culture Wars
20) Predominantly Catholic Boston to grant 12 weeks paid leave to city employees who have abortions https://www.lifesitenews.com/news/city-of-boston-employees-have-3-months-off-after-abortion/
21) 'QAnon Shaman' sentenced to three years in jail for role on January 6 https://thepostmillennial.com/breaking-qanon-shaman-three-years/
22) Man used by GOP to push unfounded voter fraud claims pleads guilty to casting ballot under late wife's name https://www.nevadacurrent.com/blog/man-used-by-gop-to-push-unfounded-voter-fraud-claims-pleads-guilty-to-casting-ballot-under-late-wifes-name/
War on China
23) Biden Xi agree to arms talks as China looks to bolster nuclear arsenal https://thehill.com/opinion/international/581710-in-dramatic-shift-national-intelligence-director-does-not-rule-ou
24) China overtakes US in global wealth race but In both countries more than two thirds of the amassed wealth sits in the pockets of the richest 10% of households https://www.rt.com/news/540351-china-us-global-wealth-race/
Wall Street
25) Michael Hudson's "Super Imperialism" explains how Wall Street plunders the world https://kevinbarrett.heresycentral.is/2021/11/hudson/
26) Who Owns Wall Street?  http://mailstar.net/Jewish-banking-mafia.htmlhttps://www.thejc.com/news/features/the-rothschilds-the-banks-and-antisemitism-the-truth-and-the-myths-1.450112
Zionist Entity
27) Hezbollah planned to murder Israeli in Colombia to avenge Soleimani – report | The Times of Israel https://www.timesofisrael.com/hezbollah-planned-to-murder-israeli-in-colombia-to-avenge-soleimani-report/
This Week in History
28) Jack Ruby: Israel's Smoking Gun https://www.unz.com/article/jack-ruby-israels-smoking-gun/
29) False Flags this Week in History: The Shelling of Mainila https://en.wikipedia.org/wiki/Shelling_of_Mainila
Odds and Ends
30) Masked DoorDash Driver Wore A Face Diaper, But …   https://nofacemask.blogspot.com/2021/11/masked-doordash-driver-wore-face-diaper.html
31) Mike Tyson 'died tripping on psychedelic toad venom' – and it changed his life  https://currently.att.yahoo.com/att/cm/mike-tyson-died-tripping-psychedelic-224520132.html
32) In dramatic shift national intelligence director does not rule out 'extraterrestrial' origins for UFOs https://thehill.com/opinion/international/581710-in-dramatic-shift-national-intelligence-director-does-not-rule-out
---
False Flag Weekly News is a weekly investigative news program that covers extremely controversial subjects. We want to remind our viewers that "Questioning" of Official Government or Mainstream Media Stories Is Not Hate Speech, nor is it Fake News, it is Free Speech that is protected by the 1st Amendment to the US Constitution.

The False Flag Weekly News anchored by Dr. Kevin Barrett and guests looks behind the headlines and main stream media stories to get at what's really going on in the world. From violations of international law to initiating WWIII, you don't want to miss what they and their guests have to say about the stories behind the stories. This weekly news show is broadcast live on YouTube and No Lies Radio every Saturday morning 8am Pacific/11am Eastern. Thousands watch the show every week and rely upon us to reveal the naked truth behind national and world events that the main stream media is covering up. We take a no holds bar investigative reporter attitude even in our coverage of controversial events such as 9/11, the Boston Bombing, Sandy Hook, the Ukraine, the Paris Charlie Hebdo event, ISIS, and the more recent Paris and San Bernadino attacks. This news show exposes history-changing false flags perpetrated by government intelligence agencies and other Deep State actors that plague mankind by causing wars built on lies, racism, genocide, mass surveillance, censorship, assassinations, martial law, stripping of our civil rights, etc. False flags throughout history have been committed by multiple governments and intelligence agencies. Click here for a detailed review of 53 Admitted False Flags.

---
DR. KEVIN BARRETT, Chief News Anchor and Researcher–Dr. Kevin Barrett, a Ph.D. Arabist-Islamologist, is one of America's best-known critics of the War on Terror. Dr. Barrett has appeared many times on Fox, CNN, PBS and other broadcast outlets, and has inspired feature stories and op-eds in the New York Times, the Christian Science Monitor, the Chicago Tribune, and other leading publications. Dr. Barrett has taught at colleges and universities in San Francisco, Paris, and Wisconsin, where he ran for Congress in 2008. He currently works as a nonprofit organizer, author, talk radio host, an Editor at Veterans Today, and is a pundit on a number of international channels. He is the editor of We Are NOT Charlie Hebdo: Free Thinkers Question the French 9/11, an anthology that disputes the official story behind the January 7, 2015 Paris attacks, and the forthcoming ANOTHER French False Flag? Free Thinkers Question the 11/13 Paris Attacks.
---
"The views and opinions expressed in False Flag Weekly News are the sole responsibility of the speaker(s) and do not necessarily reflect those of NoLiesRadio.org. NoLiesRadio.org will not be responsible or liable for any inaccurate or incorrect statements expressed therein."
---
---
Share