YouTube Censors False Flag Weekly News (FFWN)
We need your continuing help to stay on the air!
CLICK HERE TO DONATE 
Censors' kangaroo courts are really hopping!
And we're hopping mad.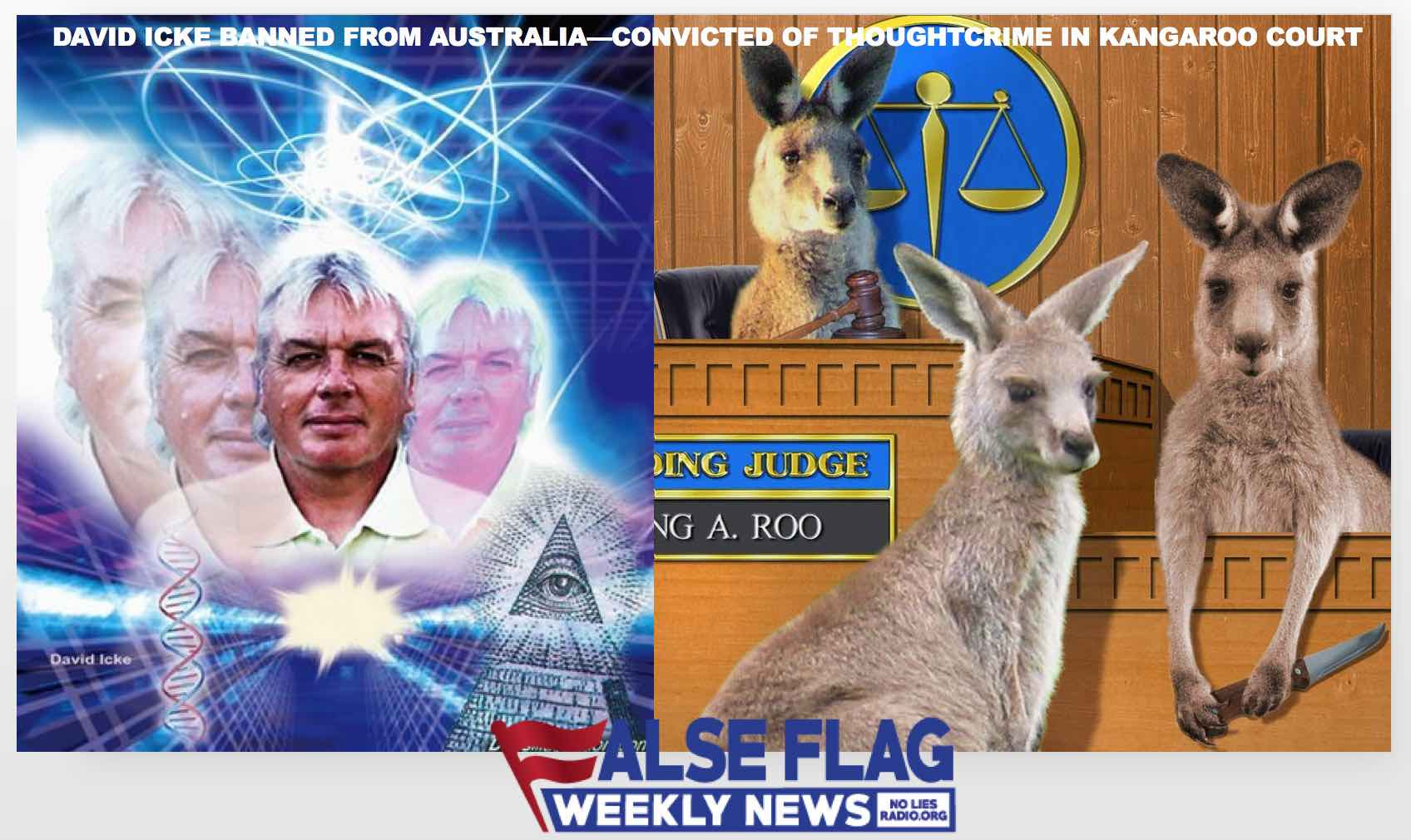 On Sunday, February 24th, YouTube assessed a strike against No Lies Radio. They claim that one of the hundreds of videos posted there, a videotaped NEWS EVENT from many years ago, violated their terms of service. But they won't explain specifically HOW and WHERE it violated them. And now that YouTube has removed the video, there is no way to assess the claim. Welcome to Franz Kafka meets Alice in Wonderland! And in the last two weeks YouTube has given FFWN 2 warnings and has even edited our March 22nd show in real time while it was live streaming. They cut Alan Sabrosky mic.
And now we're working on finding better live streaming alternatives to YouTube. If we get 2 more strikes on YouTube they will cancel our channel and delete our 100's of videos. As of this week the ban has been temporarily removed, but as we broadcast very controversial news and events, we expect that we will be banned again, as we will not be silent!
So to remove ourselves from this constant fear of YouTube Censorship hanging over our heads, we need to rent a more secure live streaming platform at a different more reputable service provider and to purchase necessary new video software and get the technical help to make it all happen. This will allow us to continue live streaming False Flag Weekly News (FFWN) every Friday and to live stream our various news worthy events throughout the year, including our annual Deep Truth event, our September 9/11 Truth Film Festival, and many new live streamings events to come. We hope you can help us stay on the air with your donations. So far we have raised most of the amount needed to rent the server, but your donations will help with securing technical support, downloading our archives from YouTube and uploading them to a safer location. And we thank all of you that have contributed so far.
Obviously this strike against us is pure harassment and censorship. It has nothing to do with "community standards"—and everything to do with a certain powerful Lobby trying to suppress information and views it disagrees with.
So who doesn't want you to watch False Flag Weekly News, and why? Hint: The two biggest MSM-censored issues we cover regularly are: (1) 9/11 and related false flags; and (2) Zionist occupation of both Palestine and the USA. Both are sensitive topics in some quarters.
Don't let the censors win! Help us push back. Help us keep FFWN alive.  DONATE to the cause, and email ffwn@noliesradio.org  to get on our list so we can inform you about each show and where to watch it as we could soon be disappeared from YouTube.
Thank you for letting freedom ring!
Kevin Barrett, FFWN news anchor
Allan Rees, FFWN producer
Share