Syria: John Kerry and Sergei Lavrov talk up prospect of peaceful solution
The Guardian – by Dan Roberts – Friday 13 September


Photo: John Kerry and Sergei Lavrov
Chemical weapons talks in Geneva were on Friday poised to drag into a third day, as US negotiators battled through the evening to reach an agreement with the Russians that would allow for a United Nations resolution to dispose of Syrian stockpiles while avoiding military strikes.
One senior US official told The Guardian they expected secretary of state John Kerry and his Russian counterpart, Sergei Lavrov, to hold a joint press conference over the weekend, to announce what progress had been achieved on their plan to destroy Syria's chemical weapons, but added that it was still too early to be certain whether a satisfactory deal would be reached.
President Barack Obama is due to give a major television interview on Sunday morning, ahead of an anticipated report by UN weapons inspectors on Monday. The Obama administration is under intense domestic political pressure to show progress with the Russians, after so far failing to secure Congressional support for unilateral US military strikes.
The UN secretary-general, Ban Ki-moon, let slip on Friday that there would be "an overwhelming report" showing chemical weapons were used in Damascus on 21 August. He also said President Bashar al-Assad of Syria had "committed many crimes against humanity".
But even in the face of such a report, the Russians are highly reluctant to agree to a UN resolution threatening Assad with military strikes if he does not hand over his weapons.
Senior US officials told the Associated Press on Friday evening that Obama would be open to a UN resolution that did not contain the threat of military force, and said negotiations in Geneva were a "a pivotal point". This echoed remarks by Kerry, who would only say force "might" be needed if Syria did not comply.
Earlier on Friday, Russia and the US also announced efforts to revive a stalled international process to seek a longer-term solution to the Syrian civil war, although these wider talks will only take place if negotiations aimed at securing Syria's chemical weapons prove successful.
Kerry and Lavrov met the UN envoy Lakhdar Brahimi on the sidelines of their summit in Geneva, and pledged to try to restart a stalled international peace process later this month. But both sides stressed that any such political progress toward a transitional government could only happen if they first reached agreement on how to ensure the Syrian government handed over its chemical weapons to international control.
Any decision to restart peace negotiations when they next meet at the UN general assembly in New York would "obviously depend on the capacity to have success here in the next day, hours, days, on the subject of the chemical weapons," said Kerry.
"I think we would both agree that we had constructive conversations regarding that, but those conversations are continuing and both of us want to get back to them now," he added, during brief comments to reporters on Friday morning.
Lavrov was fractionally more upbeat on the prospects for eventually agreeing a "transitional governing organ" representing all groups of Syrian society, according to a transcript released by the State Department, but also urged all sides to focus on chemical weapons first.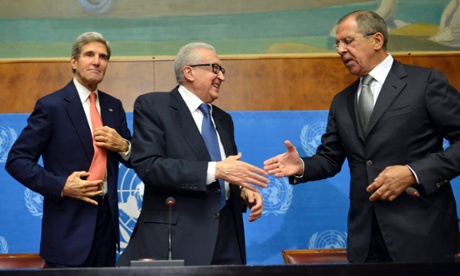 John Kerry,  left, Lakhdar Brahimi, center, UN joint special representative for Syria, shakes hands with Sergei Lavrov. Photo: Martial Trezzini/AP
"We are here, basically, to discuss the issue of chemical weapons in Syria," the Russian foreign minister said. "Now that the Assad government joined the Chemical Weapons Convention, we have to engage our professionals together with the Chemical Weapons Prohibition Organisation, as we agreed with the United Nations, to design a road which would make sure that this issue is resolved quickly, professionally, as soon as practical."
Teams of chemical weapons experts from Russia and the US are locked in detailed discussions in Geneva, over how to quantify Syria's chemical weapons and, more importantly, arrange for their safe transfer to international supervision and destruction in the midst of a chaotic civil war. The talks were due to finish on Friday but may now continue on Saturday, before Kerry flies to Jerusalem on Sunday.
Russian officials are particularly keen to make sure the weapons do not fall into the hands of extremist rebels, who they blame for recent chemical attacks.
The talks have also been complicated by fresh Syrian demands that attach conditions to the process…
Video Source: www.youtube.com
Posted by Teri Perticone
Share