Body of kidnapped Italian peace activist Vittorio Arrigoni found in Gaza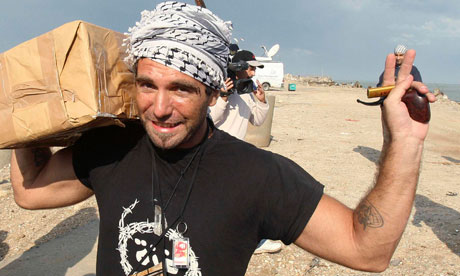 Vittorio Arrigoni in Gaza in 2008. The pro-Palestinian activist has reportedly been killed by Islamic militants. Photograph: Suhaib Salem/Reuters
An Italian pro-Palestinian activist has reportedly been kidnapped and killed by Islamic militants in Gaza.
The body of Vittorio Arrigoni was found in an abandoned house in the Gaza Strip on Friday following his abduction by militants, a Hamas official said.
Two men were arrested and others were being sought in the killing, the official added.
A Jihadist Salafi group in the Gaza Strip aligned with al-Qaida had threatened to execute Arrigoni by 5pm local time on Thursday unless their leader, whom Hamas arrested last month, was freed.
"A security force entered a house and they found the Italian's man body, he is dead," the source told Reuters from the scene.
Arrigoni, a pacifist and blogger, had lived in the Gaza Strip for some time.
In a YouTube clip posted by his abductors, he was shown blindfolded with blood around his right eye and a hand can be seen pulling his head up by his hair to face the camera.
The accompanying Arabic text said: "The Italian hostage entered our land only to spread corruption." It described Italy as "the infidel state".
The body was found dressed in black clothes as he appeared in the video clip, a witness said. No blood was seen, which suggested he may have been strangled or hanged.
Share