Mubarak 'leaves Cairo'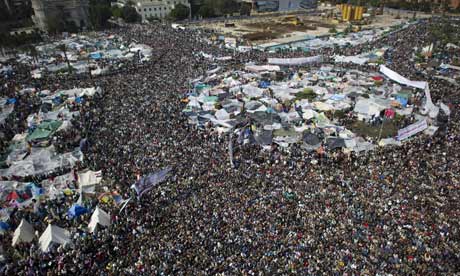 Egyptian protesters in Cairo's Tahrir Square on 11 February 2011.
Photograph: Pedro Ugarte/AFP/Getty Images
guardian.co.uk
3.32pm: There are reports of clashes in the north Sinai town of el-Arish. Al-Jazeera says at least one person died and 20 were injured when people with small firearms attacked a police station. From Reuters:
Around 1,000 Egyptians attacked a police station in the north Sinai town of el-Arish on Friday to try to free prisoners, exchanging gunfire with police who retreated to the roof, witnesses said. The attackers set ablaze three vehicles outside and hurled petrol bombs during confrontation.
3.31pm: My colleague Richard Adams in Washington sends the following:
White House official just said: Mubarak's departure to Sharm el Sheikh a "positive first step". Also says Suleiman will be "clarifying" what his powers are. Egyptian TV says statement "from the office of the presidency" very, very shortly. Egyptian army tanks surrounding the presidential palace have turned their gun turrets away from the crowd, according to CNN.
3.30pm: On the Arabist blog, Issandr El Amrani has posted his instant thoughts on the situation as he sees it. It's worth a read. Amrani believes it is "pretty evident that Suleiman is in charge". He asks why the regime, still need Mubarak to be nominally in charge. He says: Mubarak needs to be in place, even if only symbolically, for amendments to the constitution to be made. If the constitution is suspended, then this forces the army to take charge itself (presumably through the supreme military council), which opens the way to demands for civilian government and lifts the last layer of distance that the army has vis-a-vis the people.
3.00pm: There are reports that president Hosni Mubarak has left Cairo. Helicopters have been seen leaving the presidential palace in Cairo, and a local government official has said he is in the red sea resort of Sharm el-Sheikh.
After Mubarak's speech last night, it appeared he had defied the people's call for him to step aside. But today, Egyptian diplomats are briefing that he has indeed relinquished power to his deputy, Omar Suleiman. The army also stated that a handover of power had begun.
Share