US 'provokes' China; Yellow Sea tense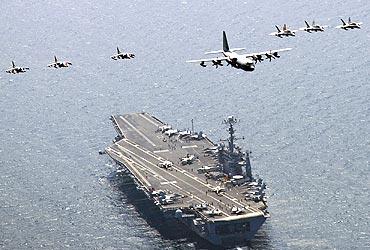 A Chinese general on Friday termed as 'flagrant provocation' United States' plans to send a nuclear-powered aircraft carrier to the Yellow Sea and said the country would retaliate if 'offended.'
"A country needs respect, so does a military. We will retaliate if we are offended," Major General Luo Yuan, deputy secretary-general of the People's Liberation Army's Academy of Military Sciences, wrote in an editorial in the PLA Daily.
The US is 'pushing its security boundary to the doorstep of others — the Yellow Sea, South China Sea and so on,' Luo said.
China had in the recent weeks voiced its firm opposition to activities of foreign military vessels or planes in the Yellow Sea and China's coastal waters, saying they undermine it security interests.
Despite China's warning, the US insists on sending the carrier US George Washington, he said.
The general was reacting to reports quoting US Admiral Mike Mullen, chairman of the US Joint Chiefs of Staff, as saying that the carrier will always go into international waters.
Luo's comments also came in the backdrop of reports that China was developing a new missile called Dong Feng 21D.
The anti-carrier missile, regarded as a game changer, could be launched from land with enough accuracy to penetrate the defenses of even the most advanced moving aircraft carrier at a distance of more than 1,500 km.
Another official newspaper China Daily on Friday carried a report on the new missile saying that the ministry of national defense did not confirm it.
Yellow sea, that separates China and South Korea, was experiencing rise in temperatures in the region on the sidelines of the crisis over the sinking of a South Korean naval ship allegedly by North Korea.
China, while advocating restraint steadfastly opposed to the US-South Korean naval exercises in the Yellow Sea, even while it conducted its own naval war games off Shanghai coast.
China hardened its stance further after US Secretary Hillary Clinton's recent comments at ASEAN meeting calling for an international mechanism to solve disputes in South China Sea, which is an extension of Yellow Sea in the international waters.
Commenting on the US plans to send its aircraft carrier to South China Sea Rear Admiral Yin Zhuo, senior researcher at the Chinese navy's Equipment Research Center, said there is hardly any operational intent from the US side, sending aircraft carrier except to put pressure on China, diplomatically and politically.
Share