Tesla Motors: Toyota electric prototypes coming soon
By Peter Valdes-Dapena, senior writerJuly 10, 2010: 1:05 PM ET
NEW YORK (CNNMoney.com) — Electric carmaker Tesla Motors will deliver two prototypes to Toyota Motor Co. by the end of the month, a Tesla executive said Saturday.
The prototypes will use Tesla's electric motors and battery packs and the bodies of Toyota vehicles.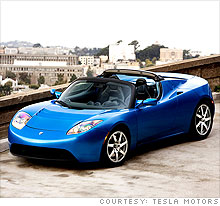 Toyota is working with Tesla Motors, maker of the Roadster electric sports car, on a new electric vehicle.
"Toyota and Tesla engineering teams have made a lot of progress in a short amount of time and it is exciting to start seeing some initial results," Tesla Chief Technology Officer JB Straubel said in a statement.
Toyota announced in May that it planned to invest $50 million in Tesla Motors (TSLA) following the electric car maker's initial public offering, which took place on June 29. Tesla's stock closed Friday at $17.40, down 21% over five days.
Toyota, which is already the industry leader in gas-electric hybrid cars, is also looking for other partners to develop future alternative fuel technologies. In fact, collaboration with other companies is expected to be a key part of Toyota's alternative fuel strategy.
Toyota executives have, in the past, expressed doubts about the market potential for purely electric cars. They have citing the vehicles' high cost, relatively short driving distance, long charging times and questionable battery technology.
Share