What We Know About the "Tampa Man" Whose Attack in New York Will Help Mattis and Tillerson Get Their New AUMF
Posted on 
November 1, 2017
 by willyloman
by Scott Creighton
UPDATE: They are now saying they "found" social media accounts, NOT IN HIS NAME, that have "ISIS™" related material on them. How much more proof do you need? I guess Facebook, Google and Twitter better get started "cleaning up" the internet.
On  Monday Oct. 30th, Sec. of Defense Mattis and Sec. of State Tillerson went before a congressional committee and begged them to pass a new Authorization for the Use of Military Force (AUMF) which would grant them the ability to wage an endless war (no time restraints. Mattis said a limit would "embolden the enemy") anywhere on the planet against anyone they deemed an enemy.
The new AUMF is expected to be a difficult vote in congress at this time. Congress is divided even among parties and we have been using the old one (drafted after 9/11) since 2002. But that one says we are at war with al Qaeda and al Qaeda affiliates… and as we all know… we have been partnering with al Qaeda and al Qaeda affiliates in places like Libya and Syria and the new enemies may not be associated with that old boogeyman so an updated law is required in order to continue with Dick Cheney's "long war", "thousand year war"
Less than 24 hours after Mattis and Tillerson made their plea to congress for endless war against anyone, anywhere… New York suffered what is being called a terrorist attack. It is the first such attack supposedly linked to "ISIS™" since Jan. 6th 2017 (still the Obama administration)
What a coincidence, huh?
Supposedly the attacker rented a vehicle (a Home Depot pick-up truck) and drove down a street on the west side of Manhattan striking pedestrians and bikers on a bike path killing 8 people and injuring a number of others. He was chased briefly carrying a paintball gun and a BB gun before supposedly being shot in the stomach and captured. He was taken alive and is expected to fully recover from his wound. There is video of this part of the event.
It sure seems like he wasn't really in a rush to get away now doesn't it?
Funny how he decided to take a pellet gun and a paint ball gun out of that vehicle with him when he got out. Almost as if he wanted to be shot. Either that or whoever planned this figured they would need an excuse to "shoot" him and they didn't want to give him actual weapons… just in case.
The police chief in New York says a "witness" claims the man yelled "Allah Akbar" as he got out of the truck yet there is no other evidence of this. It should be noted that the New York police department is very close to the FBI and other federal authorities involved in the Global War OF Terror run out of my hometown, Tampa Fl.
The suspect "may have" left a note pledging allegiance to "ISIS™"
Saipov may have left a note pledging allegiance to Isis in or near the truck, law enforcement officials told several US media outlets, however this detail has not been confirmed. Independent
Unconfirmed reports suggested a note or notes had also been found in or near the truck, but these could not be verified. Guardian
The New York Times reports that "handwritten notes in Arabic near the truck … indicated allegiance to the Islamic State", while CNN says a note was written in English, also indicating support for Isis, and was found inside the truck. Guardian
CNN is currently reporting the stories about him saying "Allah Akbar" and the note as if they were verifiable facts.
The suspect, a truck driver by trade and a family man, has been identified as Sayfullo Saipov from Uzbekistan. It is being widely reported that he is a legal immigrant having been in the U.S. since 2010 and he has ties in Ohio, New Jersey and Fort Myers Florida. What is reported less are his ties to Tampa Florida.
"In Tampa, Saipov had an address at the Heritage at Tampa apartments off of N 56th Street, north of Sligh Avenue, according to a commercial database that aggregates public records information about individuals from a variety of sources. A woman at the apartment that was identified as Saipov's on residential records would not give her name, but said FBI agents were at her apartment Tuesday night, that she had lived in the unit less than a year and that she didn't know Saipov" 
TampaBay.com
This publication describes him as "the Tampa man"
This one says he STILL lives in Tampa.
Why is his connection to Tampa being downplayed in the national media?
Well, this might have something to do with it:
MacDill Air Force Base, Tampa Fl. hosts the following:
Which makes it easy to understand this:
They were among about 300 people, most in uniform, who filed Monday into the Joint Intelligence Operations Center at U.S. Central Command to hear President Donald Trump make his first speech at a military base.
CentCom oversees U.S. military operations in a 20-nation swath running east from Egypt to Kazakhstan, and including Iraq, Iran, Syria, Yemen, Afghanistan, the Gulf States and nuclear-armed Pakistan. U.S. Special Operations Command, also headquartered at MacDill, coordinates the global war on terror and provides fully equipped and trained commandos. TampaBay.com
Did you know the CIA has a long history of running BlackOps in Uzbekistan?
Did you know US Special Operations forces have been training troops in Uzbekistan since the early 2000s and that this year we just upped the ante over there thanks to the new defense budget?
So let's sum this up, shall we?
Right at the same time the MIC wants a new authorization to make war anywhere in the world they want under the guise of the Global War On Terror, a man from the same city where the GWOT is being run just happens to attack a bunch of people in a city with close ties to the agencies running the GWOT and he supposedly gets shot and survives holding fake guns and meandering around in the middle of the street waiting to get "shot"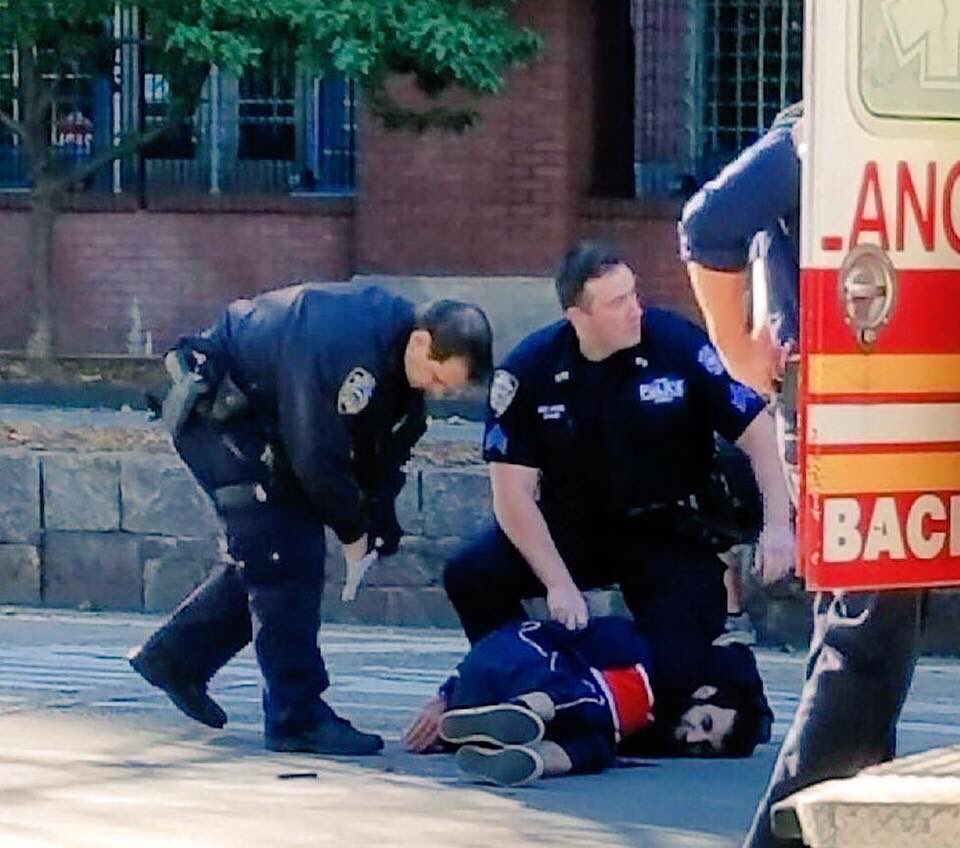 We clear so far?
And guess what? The Israeli Mossad-linked website called SITE Intel Group, run by Rita Katz, has a connection to this plot as well.
A photo taken in August obtained by SITE Intel Group shows an ISIS supporter just blocks away from where Tuesday's attack took place, although Saipov's alliances are still being investigated, and authorities have not said publicly that they suspect anyone else as being involved in the plot Heavy
With what happened recently in Niger and the revelation that we have all sorts of undeclared "little wars" taking place all over the globe, there are calls for congress to reign in the out of control military which apparently thinks 9/11 and Dick Cheney gave them a free hand to blow up anyone anywhere at anytime it suits them and their "national interests"
With that said, clearly, now is not the time to be asking for a new free pass for the endless war of aggression. But that's what Trump wants because that is what his glorious generals want.
The revelation that the US is at war in Niger, without Congress even knowing, is adding to the sense among many lawmakers that they really need to get a handle on this whole war thing, if they want to even pretend to have their Constitutionally assigned war-making powers.
The idea of replacing the 2001 AUMF with specific AUMFs with obvious limitations is being loudly opposed by the Trump Administration, which insists that such limitations don't make sense in the era of "non-traditional" warfare. AntiWar
In the wake of that, in the wake of the new call to get congress to regain some democratic control on our war-making and in the wake of Tillerson and Mattis going to congress and asking for EVEN MORE power to wage endless war, anywhere, anytime, against anyone… a guy from the hometown of the Global War OF Terror (a guy from a country where Special Ops recruits and trains terrorists) runs up to New York with their GWOT-friendly police force and commits the EXACT kind of terrorist act that will HELP those men get the congress to act in the way they want.
And folks still wonder why "conspiracy theorists" exist.
Share